Member Profile
loveless

(Private Message) (Add to Friends) (Homepage) (Email) (Blog)
Mood:
complete.
Gender:
Male
Birthday:
June 25, 1988
Location:
away from the grounds of where my beloved died..
Likes:
Harry potter(i've been a fan since the 1st book was out in the U.S. I finished all the books and I bowed down to the 7th. J.K. Rowling is my queen ^_^')
Chasing cars(hp style, might contain spoilers..)
games,
boys,
girls(as friends),
video games,
books,
computers,
and chatting when i'm in the mode...
also i love homos..
don't screw with me tho..
i'll figure out a way to back stab you :d
Dislikes:
People who are homophic... Or people who hate homos.
People who don't like others.
People can't say stuff that is the first thing that comes to their mind.
Bio:
Born in a family of NINE kids, i'm the youngest tho.

Q: Who is Zero?

A: Zero is me but, he's my alter ego/personality.. My kind self.. I am usually called Zero because that's me.. Most people consider me a kind, nice, helpful person.. Others consider me a jacka$$ and a pain in their a$$.. Well that's about all but, I have about 4 alter personalities.. BTW their still growing like the population.
Aim:
ICQ:
Yahoo:
MSN:
zero4319@hotmail.com
Member Stats
Rank:
Pathological Poster


Points:
1594
Last active:
4-3-2009 at 08:04 AM
Registered:
17-10-2006
Forum most active in:
Fanfic Roleplay (842 Posts)
Last Forum Post:
Changing Winds (4-3-2009 at 08:03 AM)
Search for all posts by this user
loveless's Blog / Journal
Brian's story ( continued )
Posted on 7-2-2009 at 11:42 PM
when i selfishly pushed brian away i became hollow, empty, emotionless. By the time i started working at walmart i started to shed my shell and without my knowledge i was happy because of stephen. Then i found shane and right now im ready to love him fully.
Mood: complete.
I didnt realize this until i met shane.
Posted on 7-2-2009 at 11:29 PM
After 4 or 5 months of longing for brian wait, im getting ahead of myself.. let me tell you about my dear brian. let's start from the beginning, shall we? I met Brian through Billy, an ex of mine. Now Brian was a very horny man.
i'll skip the details on cyper and phone talk. But, I dated Brian for 2 yrs and i selfishly pushed him away.
Mood: complete.
and so my story with shane unfolds even more.
Posted on 30-1-2009 at 12:45 AM
What I thought was the end of my happy ever after, it unfolded into a full cherry blossom tree. Each touch of shane makes my heart beat happily and i am truely happy. I think i will be able to surrive the summer when shane goes on vacation. Yes I've fallen for him and i have no doubt anymore that he doesnt love me because, he does love me.
Mood: complete.
so.....
Posted on 24-1-2009 at 07:13 AM
im sure everyone is curious about shane, well then let me explain him. When i first met him i felt love, my heart was racing when he talked. He's the one man i dont want to lose, if i did i would die and thank him so much for loving me. I dont know what daisuke is planning anymore. I'm scared for me and shane.
Mood: complete.
okay you're all probably wondering where i have been ja? read this
Posted on 21-1-2009 at 06:35 AM
ok the last time i posted i thought my net wasnt going down but it did and i met shane and ive been with him since then but i still live with my mother. Really i've just been busy and havent been to the library in awhile. Sorry everyone. Btw i changed it to where people can comment on this entry
Mood:
BLAH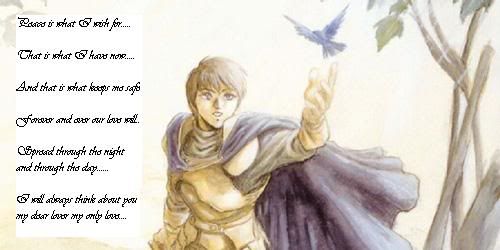 ^ I made this when I met my first lover. On a site that is similar to this but different, i've come a long way since then.
Which is a really really good thing for me.
However I still wonder at night what my first is doing, it's been soo long since I have ever seen or heard from him >.<